Preventive Dentistry – East York • Toronto, Ontario
Enjoy Oral Health
That Lasts For Life
It's true – prevention really is the best medicine. That's why the team at Donlands Family Dentistry works so hard to catch common dental problems at their earliest, most harmless stages through dedicated dental checkups, professional teeth cleanings, and other likeminded services. As a result, we can potentially save you and your family a great deal of cost and time down the road! If it's been more than six months since your last visit to a dental office, don't hesitate to contact us in East York and Danforth. We care for patients from all over the greater Toronto area.
Why Choose Donlands Family Dentistry for Preventive Dentistry?
Advanced Diagnostics, Including All-Digital X-Rays
Children & Adults Welcome
Extended Evening Hours For Appointment Flexibility
Dental Checkups & Teeth Cleanings
We strongly encourage patients of all ages to attend professional checkups and cleanings at least twice each calendar year, or once per every six months. Why are these visits so important? Because even diligent brushers and flossers can end up with tooth decay, gum disease, and other serious oral damage without realizing it at first. We'll take a comprehensive look at every aspect of your smile, including the tooth surfaces, the soft tissue, your resting bite, any restorations like fillings and crowns, and more. Once we have a complete picture, any necessary treatments can be recommended. Hygiene sessions are also important because they get rid of harmful plaque and tartar build-up from around the mouth, effectively preventing cavities and infections.
Learn More About Dental Checkups & Cleanings
Oral Cancer Screening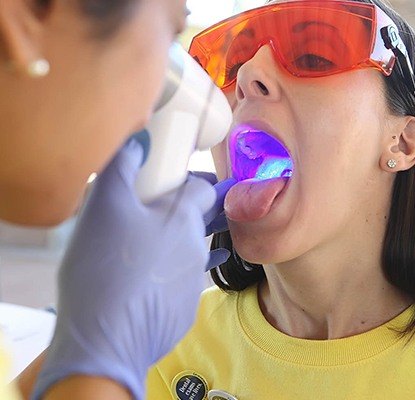 Did you know that a whopping 25% of people diagnosed with oral cancer this year won't exhibit any of the known risk factors for the disease, such as smoking and tobacco use? Your dentist can be the strong first line of defense against this harmful and even deadly condition. Our dental office offers dedicated oral cancer screenings as a part of routine checkups. With the power of VELscope and its fluorescence visualization technology, any abnormal oral tissue can be clearly detected early on, leading to further testing. This greatly improves our patients' chances of experiencing a safe, successful recovery.
Learn More About Oral Cancer Screenings
Fluoride Treatments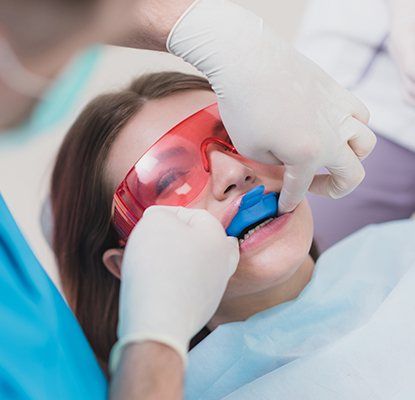 Fluoride is a natural mineral that can be found in the world all around us – the foods we eat, the oral hygiene products we use, and even the water that comes out of our sinks. This is good news for teeth, which actually benefit from regular fluoride exposure because of its fortifying properties; it helps enamel remineralize when faced with decay and reduces the risk of cavities in children and adults alike. At Donlands Family Dentistry, we can provide professional fluoride applications as a part of your routine appointments, offering smiles an extra boost of strength and security in just a few minutes.
Nightguards for Teeth Grinding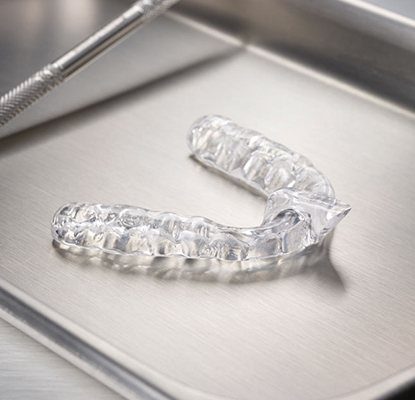 Bruxism (also known as teeth grinding) can often be a "silent" disorder because many patients only experience it while asleep, leaving them unaware as to how their teeth became worn-down or why their jaw hurts so much in the mornings. If our team discovers tell-tale signs during a checkup, we can provide your smile with long-term protection in the form of a custom nightguard. This appliance will establish a sturdy barrier between the rows of teeth, keeping any contact to an absolute minimum until morning.
At-Home Oral Hygiene Products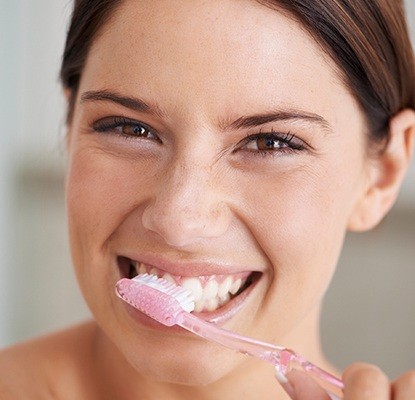 While routine professional care is very important for oral health, the hygiene routine you maintain at home also plays a large part in your smile's overall wellbeing throughout the years. If you're unsure which toothpaste, mouthwashes, and other products to use, be sure to let our team know! We can provide you with guidance based on your specific needs and preferences.
Periodontal (Gum) Disease Treatment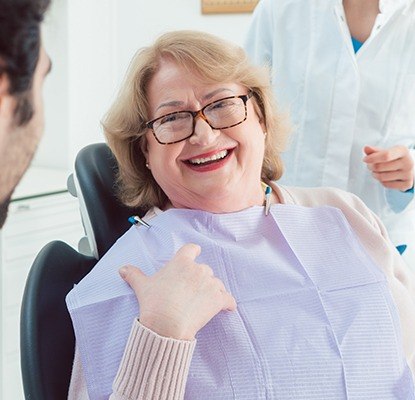 Gum disease (also known as periodontal disease) is one of the most common oral health problems in the world – in fact, seven out of ten Canadians will develop the condition at some point in their lives, according to the Canadian Dental Association. This infection can worsen gradually and painlessly over time, eventually leading to severe consequences like tooth loss; that's why early intervention is so crucial. At Donlands Family Dentistry, we offer dedicated therapy techniques to combat harmful bacteria and restore your smile's vitality, including scaling and root planing and state-of-the-art soft tissue laser care.
Learn More About Gum Disease Treatment
TMJ Therapy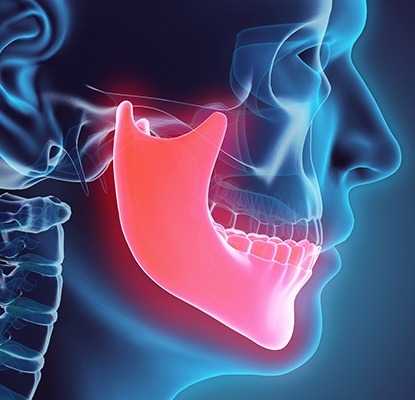 TMJ disorder (also often referred to as TMD) is a chronic and even debilitating oral health problem that can cause severe pain in the face and head. It occurs when the temporomandibular joints that control jaw movement suffer from strain or dysfunction, whether because of untreated teeth grinding, the onset of arthritis, or other related causes. Here at Donlands Family Dentistry in East York, our knowledgeable team can address this disharmony effectively with personalized therapy techniques, including customized occlusal splints and equilibration.
Learn More About TMJ/TMD Therapy
Sleep Apnea Treatment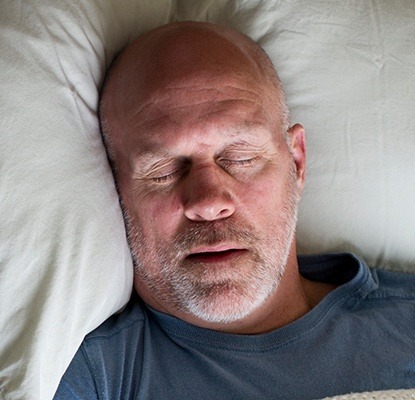 Many patients don't even realize that a dentist can often help treat sleep apnea – but it's true! If you've been diagnosed with a mild to moderate case of Obstructive Sleep Apnea (OSA), visit our dental office to learn more about the wonders of oral appliance therapy. This personalized device can reposition the jaw and/or tongue to prevent obstructed breathing and help you rest easier through the night. This style of treatment is less invasive and more comfortable than traditional CPAP machines, and your quality of life can dramatically improve as a result of making the switch.